PS property management, Austin's premiere community association management company, is proud to introduce Phyllis ,the industry's first AI powered digital community management assistant. Phyllis is your new on-demand resource for all resident questions and concerns. Delivering immediate help for things like accounting quarries, unit modifications, pool, and clubhouse questions, service requests, community forms, FAQ's, and much more.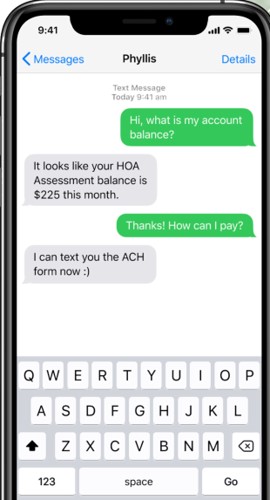 Ask questions and get answers. 24 / 7 all through text messaging, no web portal apps or software needed. Simply text
(512) 399-4616
and Phyllis will help you get the answers you need. We are are always looking to make communication with our HOA and Condo community residents easier and faster.  With our one of a kind service, we will be able to provide our residents with the direct answers and information they need without the need for another login or app to download.   Our Homeowner associations with large amenity centers and pool areas, will love the ability to get the latest schedule, reservation availabilities, and social event updates which will take their sense of community, to a whole new level. PS Property Management Company continues to be ahead of the curve with our technology and on demand information that our HOA Board members and community residents crave. We are excited to share our latest HOA technology with our community associations and will continue to be the leader in HOA management in the Central Texas area. Have questions about your community?  Need to know how to get a pool Key? Curious when the next social event takes place?  Don't hesitate. 
Text Phyllis at 512-399-4616 and get the answers you want to your questions 24-7.