There are some things in life that will always go together: Peanut Butter and Jelly, Chips and Dip, Sports and Grilling, and of course Salt and Pepper.  There are other things in life that our born together and continue to grow together over time.  That's how we at PS Property Management Company feel about Austin's HOA and condo communities and our
Austin Association Management Services
.  We have been in the association management business since our very beginning in 1987.
Austin Association Management Services
We understand that every association, weather you are a 700 home
HOA
subdivision or 20 unit condo community, we have a association management solution for your association community.  Over the years we have continued to add value to our communities by extending out many HOA management features and benefits to our homeowners.  Services like, Green HOA initiatives, personal Service, transparent financial preparation and accounting, insurance and tax preparation, bill auditing, professional and ethical assessment collection and other
HOA management
services.
HOA
We know that being an HOA board member is no easy task.  You deserve to have an Austin Association Management Services partner that understands your community and the needs of your owners.  We always strive to uphold and improve community property levels whenever possible.  We realize that for many that their home is their biggest investment of their lifetime.  We want to help insure that your community is properly maintained in every department from being financially healthy, to overall appearance and compliance issues.  We accomplish all of this while not completely changing the normal routines of your community. We are proud members of the Austin chapter of the Community Association Institute other wise known as CAI.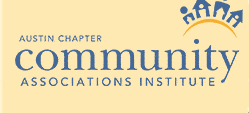 We are constantly educating and updating our experienced managers to keep up with the latest changes in the Texas legislature and it pertains to homeowners association and condo association law.  Having a HOA Management company that truly cares about your community's wants and needs is something truly special.  We don't take on just any association client.  We work hard for the communities that trust us as their HOA advisor.
HOA Management
We are not some fly by night operation that decided to manage associations on top of our commercial and individual real estate portfolios.  We have and will continue to specialize in only association management.  Association management takes a team of committed, organized, patient individuals that are truly looking out for the best interests of your community.  If your condo or homeowners association community is looking for a new beginning, a fresh start or you just need a property management partner that will truly care, contact us today to schedule a board member interview to learn about all of our Austin Association Management Services.